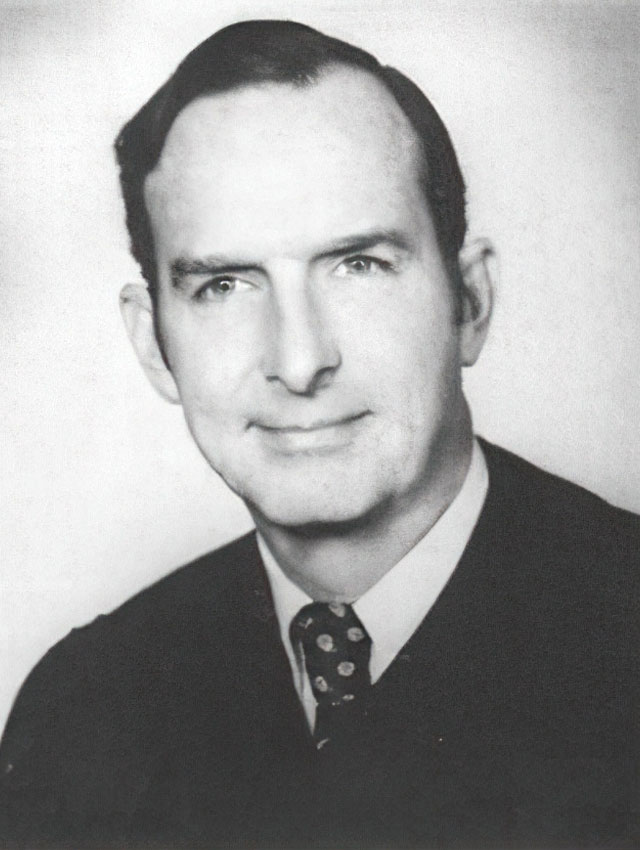 John Francis Gerry
Title: District Court
Appointed by: Gerald R. Ford
Judicial Tenure: 1974 - 1995
Served as Chief Judge: 1987-1994
Born: November 17, 1925
Birth Place: Camden, NJ
Died: March 10, 1995

Judge Gerry, who was born and raised in Mount Holly, NJ, enlisted in World War II in 1944, while still a senior in high school. He served in the Pacific Theater as a non commissioned officer in the United States Air Force from 1944-1946. Judge Gerry then attended Princeton University, followed by Harvard Law, graduating in 1953.
After serving two years as a judge on the Camden County and State Superior courts, he was appointed to the federal bench by President Gerald R. Ford in 1975. Among his notable cases while on the federal bench, was the racketeering trial of associates of a former NJ state senator. In 1987, in an important religious freedom case, he ruled that security at Leesburg State prison outweighed the interest of Muslim inmates housed nearby to enter the main prison for weekly services.
From January 1992, until his death, Judge Gerry was the chairman of the executive committee of the Judicial Conference of the United States, which administers the Federal courts. Former Chief Justice William H. Rehnquist, who headed the conference, held Judge Gerry in a very high regard, and appointed him to this position. Judge Gerry was the first district judge to hold this position.
Professional Career
U.S. Army Air Forces, 1944-1946
Private practice, Camden, New Jersey, 1953-1972
Judge, Camden County [New Jersey] Court, 1972-1973
Judge, Superior Court of New Jersey, 1973-1975
Member, Judicial Conference of the United States, 1990-1994
Education
Princeton University, A.B., 1950
Harvard Law School, LL.B., 1953