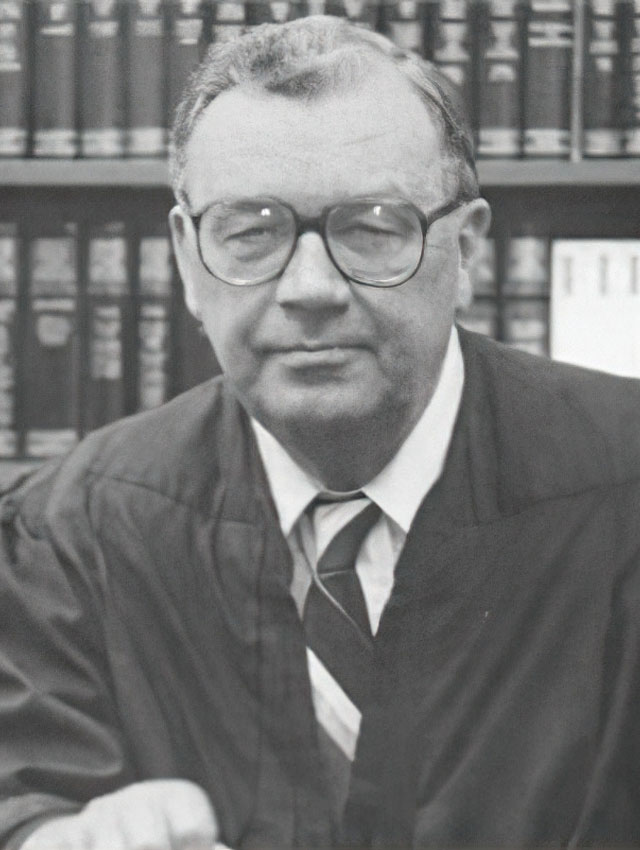 Clarkson Sherman Fisher
Title: District Court
Appointed by: Richard M. Nixon
Judicial Tenure: 1970 - 1997
Served as Chief Judge: 1979-1987
Born: July 8, 1921
Birth Place: Long Branch, NJ
Died: July 27, 1997
Place of Death: Princeton, NJ
Born in Long Branch, New Jersey, Fisher was a sergeant in the United States Army during World War II, from 1942 to 1945, and was a reserve sergeant from 1946 to 1949. He received an LL.B. from the University of Notre Dame in 1950. He, entered private practice in Long Branch, New Jersey from 1951 to 1964. He was a Councilman in West Long Branch, New Jersey from 1959 to 1964, serving as a member of the New Jersey General Assembly in 1964. He was a judge on the Monmouth County Court, New Jersey from 1964 to 1966, and on the Superior Court of New Jersey from 1966 to 1970.
On October 7, 1970, Fisher was nominated by President Richard Nixon to a seat on the United States District Court for the District of New Jersey vacated by Reynier J. Wortendyke, Jr. Fisher was confirmed by the United States Senate on October 13, 1970, and received his commission on October 16, 1970. In 1973, he presided over the famous "Camden 28" trial, concerning a group of anti-war activists who were acquitted of stealing and destroying draft records from the federal building in Camden. Judge Fisher served as chief judge from 1979 to 1987, assuming senior status on October 1, 1987. He served in that capacity until his death, in Princeton, New Jersey in 1997.
All told, His judicial career spanned 33 years, a the county, state, and federal levels. The Federal Courthouse in Camden is named in his honor.
Professional Career
U.S. Army sergeant, 1942-1945
U.S. Army Reserve sergeant, 1946-1949
Private practice, Long Branch, New Jersey, 1951-1964
Councilman, West Long Branch, New Jersey, 1959-1964
State assemblyman, New Jersey, 1964
Judge, Monmouth County [New Jersey] Court, 1964-1966
Judge, Superior Court of New Jersey, 1966-1970
Education
Notre Dame Law School, LL.B., 1950