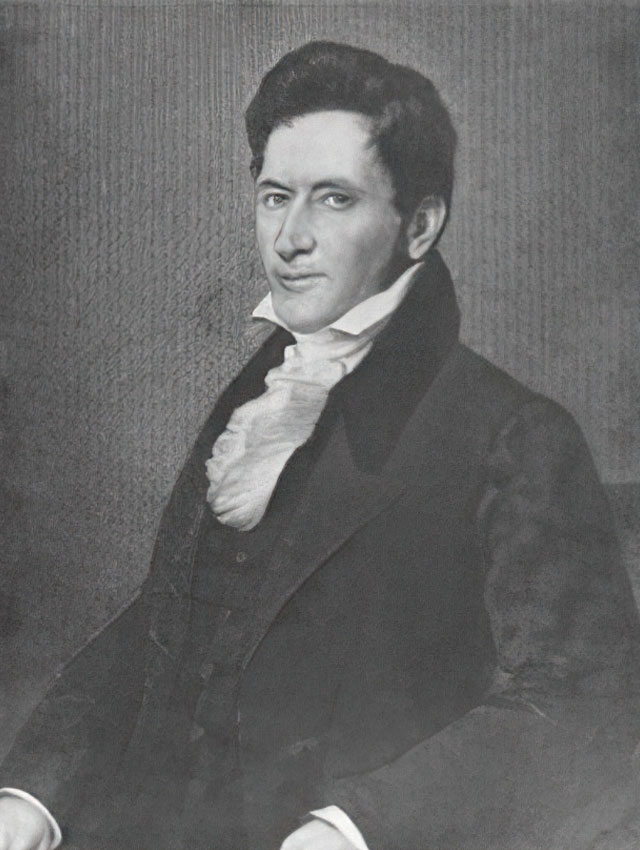 Mahlon Dickerson
Title: District Court
Appointed by: Martin Van Buren
Judicial Tenure: 1840 - 1841
Born: April 17, 1770
Birth Place: Hanover Neck, NJ
Died: October 5, 1853
Place of Death: Succasunna, NJ
Born in Hanover Township, New Jersey, he was educated by private tutors and graduated from the College of New Jersey (now Princeton University) in 1789. He then studied the law and was admitted to the bar in 1793.
During the Whiskey Rebellion, he served as a private in the Second Regiment Cavalry, New Jersey Detached Militia. After his militia service, he settled in Philadelphia, and began practicing in Pennsylvania courts in 1797. He returned to New Jersey, settling in Morris County in 1810.
He was elected Governor of New Jersey in 1815 and served until 1817. He was also a United States Senator from 1817-1833. In June of that year, he was appointed Secretary of the Navy by President Andrew Jackson and was reappointed by President Martin Van Buren, serving until June 1838. The destroyer USS Dickerson was named in his honor.
In 1840, he was appointed judge of the U.S. District Court for the District of New Jersey as a place holder so his brother Philemon wouldn't have to give up his seat in the closely divided House of Representatives until very near the end of the Congress and the Van Buren Administration, so he served less than one year. President Van Buren nominated Dickerson on July 14, 1840 to a seat vacated by William Rossell. He was confirmed by the United States Senate on July 21, 1840, and received commission on July 23, 1840. Dickerson resigned from the court on February 16, 1841.
Professional Career
Private practice, Morristown, New Jersey, 1793-1794, 1794-1796
New Jersey Detached Militia private, Second Regiment of Cavalry, 1794
Private practice, Philadelphia, Pennsylvania, 1797-1810
Miner/iron manufacturer, Morris County, New Jersey, 1810-1853
Judge, Mayor's Court
Member, Philadelphia [Pennsylvania] Common Council, 1799
Commissioner of bankruptcy, Commonwealth of Pennsylvania, 1802
Adjutant-general for Pennsylvania, 1805-1808
City recorder, Philadelphia, Pennsylvania, 1808-1810
State assemblyman, New Jersey, 1811-1813
Justice, Supreme Court of New Jersey, 1813-1815
Reporter, Supreme Court of New Jersey, 1813-1814
Governor, New Jersey, 1815-1817
U.S. senator from New Jersey, 1817-1833
Vice-president, New Jersey State Council, 1833
Secretary of the U.S. Navy, 1834-1838
Education
College of New Jersey (now Princeton University), A.B., 1789
Read law, 1793