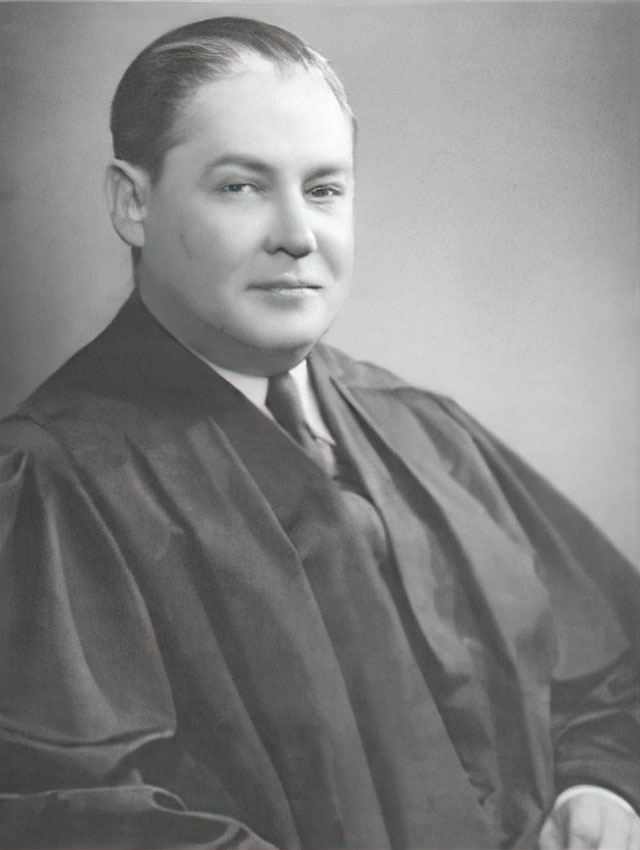 William Francis Smith
Title: District Court
Appointed by: Franklin D. Roosevelt
Judicial Tenure: 1941 - 1961
Served as Chief Judge: 1959-1961
Born: February 24, 1903
Birth Place: Perth Amboy, NJ
Died: February 26, 1968
Place of Death: New Brunswick, NJ
William Francis Smith was born in 1904 in Perth Amboy, New Jersey, the son of John Stephan Smith and Ann Elizabeth Owens. After graduating from the Columbia University School of Pharmacy, he was named deputy mayor of Perth Amboy in 1926.
His work in municipal government led to an interest in law, and in 1929 he enrolled in the New Jersey Law School. He received a law degree the following year and joined the school's faculty as an instructor, remaining until 1935. On August 29, 1935, he married Marie Cathers.
He served as U.S. Attorney for the District of New Jersey from 1940 to 1941.[1][3] In 1941, at the age of 37, he was appointed to the United States District Court for the District of New Jersey. He was believed to have been the youngest Federal Court judge at the time of his appointment. In 1959 he was called upon by Chief Justice Earl Warren to clear up a log jam that had developed at the Brooklyn Federal Court of the Eastern District of New York, and he brought the court's docket up to date in six months. Judge Smith also presided over the trial of Herbert Bahr, who was convicted of conspiring with Nazi agents to commit espionage during World War II. He also once heard arguments form the mayor of Newark to close that city's airports due to "low flying" airplanes.
Smith remained on the New Jersey district court bench until 1961, when President Kennedy appointed him to the United States Court of Appeals for the Third Circuit. He served until his death in 1968. He died at the age of 64 at St. Peter's Hospital in New Brunswick, New Jersey, where he lived.
Professional Career
Deputy mayor, Perth Amboy, New Jersey, 1926-
Private practice, New Jersey, 1930-1931
Instructor, New Jersey Law School, 1930-1935
Assistant U.S. attorney, District of New Jersey, 1934-1940
U.S. attorney for the District of New Jersey, 1940-1941
Education
Columbia University, Ph.G., 1922
New Jersey Law School (now Rutgers School of Law -- Newark), LL.B., 1929